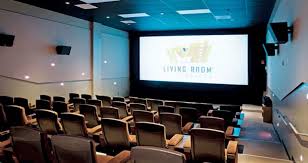 https://pdx.livingroomtheaters.com/about_us.cfm
Visionary. Extraordinary. Earth-friendly.
Living Room® Theaters is a visionary new concept created by longtime filmmakers. We set out to reinvent the way films are viewed and distributed. And to change everything we didn't like about conventional and art house movie theaters – from the film selection to the lobby ambiance, food, seating and service.
Welcome to the new evolution of cinema – Living Room® Theaters — the sophisticated yet superbly comfortable environment that combines a European style café and lounge with a relaxing place to see wonderful movies. Cinema has come to its senses.
In fact, Living Room® Theaters is cinema for your senses – a feast of sights, sounds, flavors, textures and creativity. See movies the way they're meant to be viewed. Enjoy exclusive new releases and the most-talked about independent films that critics and audiences love – without waiting months for the movies to reach Portland.
Your group can also reserve a theater for a private party or special event. Or use our technology for meetings, lectures and innovative presentations.
Independent. Award-winning. Unlimited.
Living Room® Theaters is a celebration of great, independent films and filmmakers. We're deeply committed to the vibrant, growing local film community. We also chose to launch in Portland because of active film lovers like you – Portland has one of the highest per capita film going audiences of any city in the U.S.
Our proprietary digitizing technology enables even first-time directors and producers to distribute their independent films – without the prohibitively high costs of making and shipping traditional celluloid prints. We are able to showcase acclaimed films and independent filmmakers, from local to international, as well as groundbreaking movies that otherwise might be screened only at festivals. We also premiere many films that have not yet had distribution in the U.S.
Our digital technology also expands the functions our theaters can offer. Films, television broadcasts, music, dedicated programs and other materials can easily be programmed and shown in multiple Living Room® Theaters locations.
Earth friendly. Energy conscious. Sustainable.
Launched in December 2006, our Portland, Oregon location is the first all-digital and only-digital theater in the country. This new concept offers significant environmental advantages. By eliminating celluloid prints and traditional distribution, we eliminate the use of chemicals like silver nitrate and reduce non-biodegradable materials and pollution. Digital projection is also more energy-efficient, from transportation to projection.
Environmental. Inspired. Inviting.
Located in the heart of the West End just south of Burnside from Powell's, across from the new Ace Hotel, Living Room® Theaters is designed to be "a jewel box" on Portland's cultural and entertainment scene.
We used natural materials and light to transform our funky historic building into a stellar space. A dramatic sculptural cedar wall invites you in via a "curtain" that flows from the exterior to the interior. The stunning fireplace, soaring windows and "make yourself at home" arrangement of tables, chairs and sofas in the lounge invite you to linger and connect.
© 2019 Living Room® Theaters – Security and Privacy Policy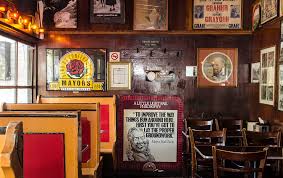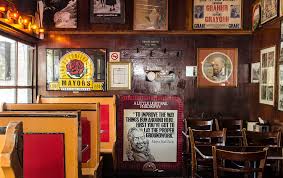 Goose Hollow Inn is a classic Portland tavern (so don't call to book a room) opened in 1967 by Bud Clark. The pub is going strong and is still owned and operated by the Clark Family.
Background: Fifty years ago, in May of 1967, when the neighborhood had fewer buildings and less traffic, Bud Clark bought Ann's Tavern on SW 19th & Jefferson. Ann Fairfax had cultivated a fine tavern, mostly from a loyal clientele of west hills Portlanders. Bud also owned "The Spatenhaus", a tavern located in a building at the current site of the Ira Keller ("four-court") Fountain, across from the Civic Auditorium. There, he cultivated an eclectic clientele of PSU students, musicians, business people, and "hippies". In November of 1967, the city would tear down the building, including the Spatenhaus, so Bud had to figure out where he was going to open his new tavern; thankfully, Ann was ready to retire, and Bud's timing was just right. Once the Spatenhaus closed, his Spatenhaus customers followed him to his new location in the foothills below Washington Park. When two of the customers at his new pub started a bar fight, Bud wrote his mission statement:  "Enjoy the Goose Hollow Inn, named to rejuvenate the history and stimulate the continuity of one of Portland's famous geographic areas. We are dedicated to Quality Draft, Fine Food, Pleasant Music, and Stimulating Company. We are also dedicated to extremes of opinion, hoping that a livable marriage will result. if physical violence is your nature, either develop your verbal ability or leave." Since then, many marriages, relationships, and discussions have been cultivated here.
     Bud's naming of the tavern as "Goose Hollow Inn" generated a new respect for the area's history. Dating back to the 1890s, various women raised geese around Tanner Creek, which ran right down what is now known as Jefferson Street (Canyon Road). Apparently, an argument developed over whose geese belonged to whom. The Oregonian newspaper ran an article covering the dispute in which it referred to the area as "Goose Hollow". But the name was lost during a half century of dramatic development in the area. Bud chose the name "Goose Hollow Inn" for his tavern in the interest of rekindling civic regard for the neighborhood and its history. (And…No, there are no rooms available at the Inn.)
     Bud's goal was to cultivate a sense of community and belonging. He ran the bar during the 1970s and early 80s; during that time, Budweiser recognized the Goose for selling more Bud per square feet than any other tavern in the US. Bud was mayor of Portland from 1985-1993, during which time, his wife Sigrid ran the bar and built the deck. While the deck affected the square footage and our legendary sales fame with Budweiser, it added a lovely new area to mingle under the rays of the sun and in the shade of the Maple Trees.
In the eight years that Bud was Mayor, beer drinking habits and tastes changed.
Three beers were on tap when Bud was elected Mayor, and the number grew to twelve while Sigrid was at the helm. In 2016, we built a new system of 18 taps, featuring a spectrum of beers from a variety of breweries and cideries.
     Bud Clark is one of the most iconic Portlanders of all time. Aside from owning and operating Goose Hollow Inn, Bud was a neighborhood activist, an early advocate of neighborhood associations, co-founder of the Neighbor newspaper, which became the Northwest Examiner, father of four, model for the poster "Expose Yourself to Art" — and the Mayor of Portland Oregon for two terms, from 1985 through 1992. His colorful style and popular appeal even gained him a spot on the Johnny Carson show in October, 1994. Largely due to Bud's vision about how to run an "Inn", we now welcome tens of thousands of people, young and old- and from a diversity of backgrounds and viewpoints- through our doors each year. The Goose has always been a place to share a pint or glass of wine with friends and mingle with both old and new acquaintances. There is no video poker to distract your table mates from the discussion, although a single TV is available for those die-hard folks who need to stay informed about scores, games, or political debates. Mostly, we're about developing our verbal abilities – and promoting the consumption of Reubens.
The Goose is still owned and operated by the Clark family; if you're lucky, you might even catch a glimpse of Bud holding court with old friends at the bar, or tucked away at a table. We continue to thrive thanks to the talents of a free-spirited dedicated and cohesive staff, Goose family, and clientele.
Go to: https://www.goosehollowinn.com/about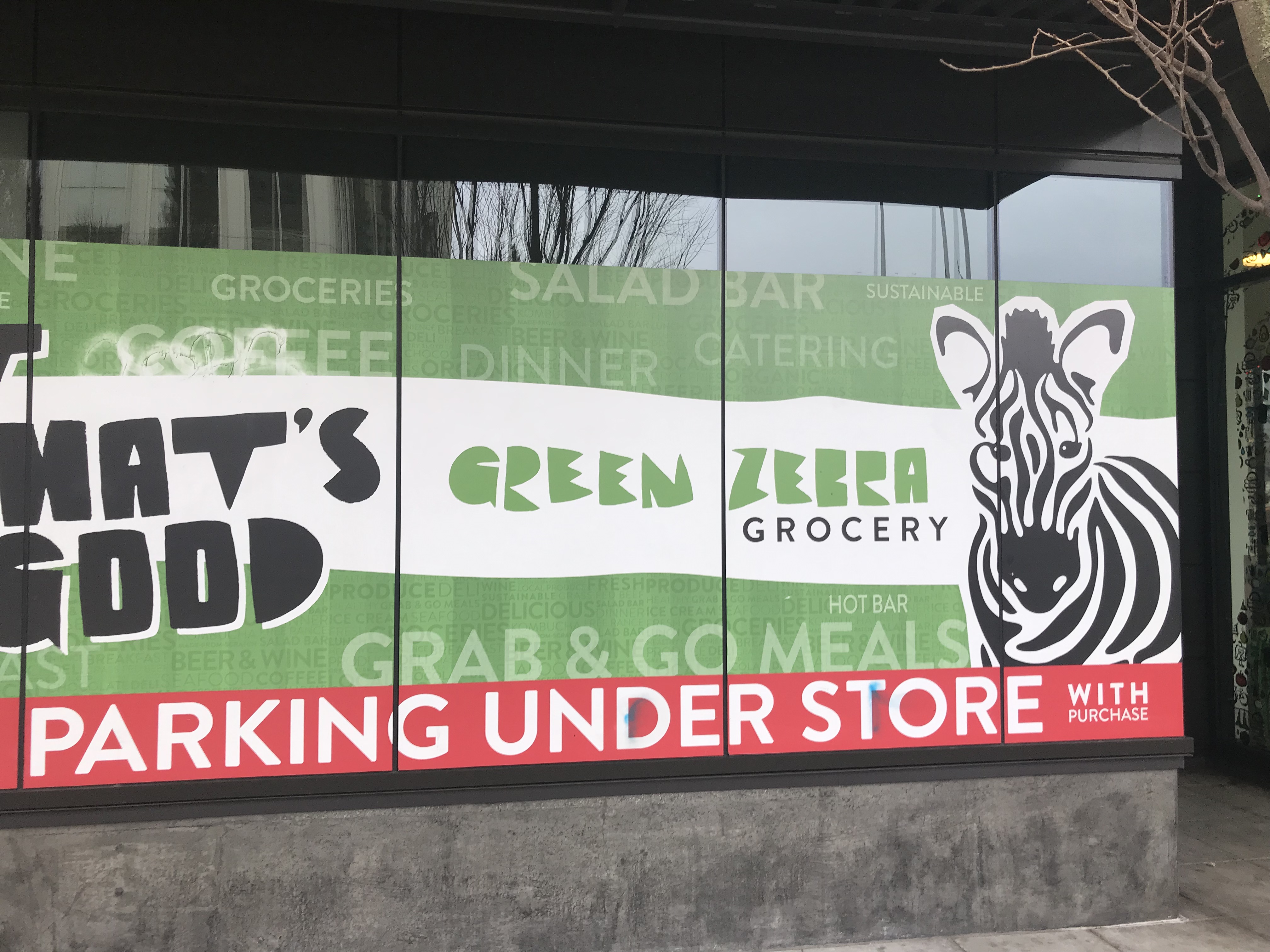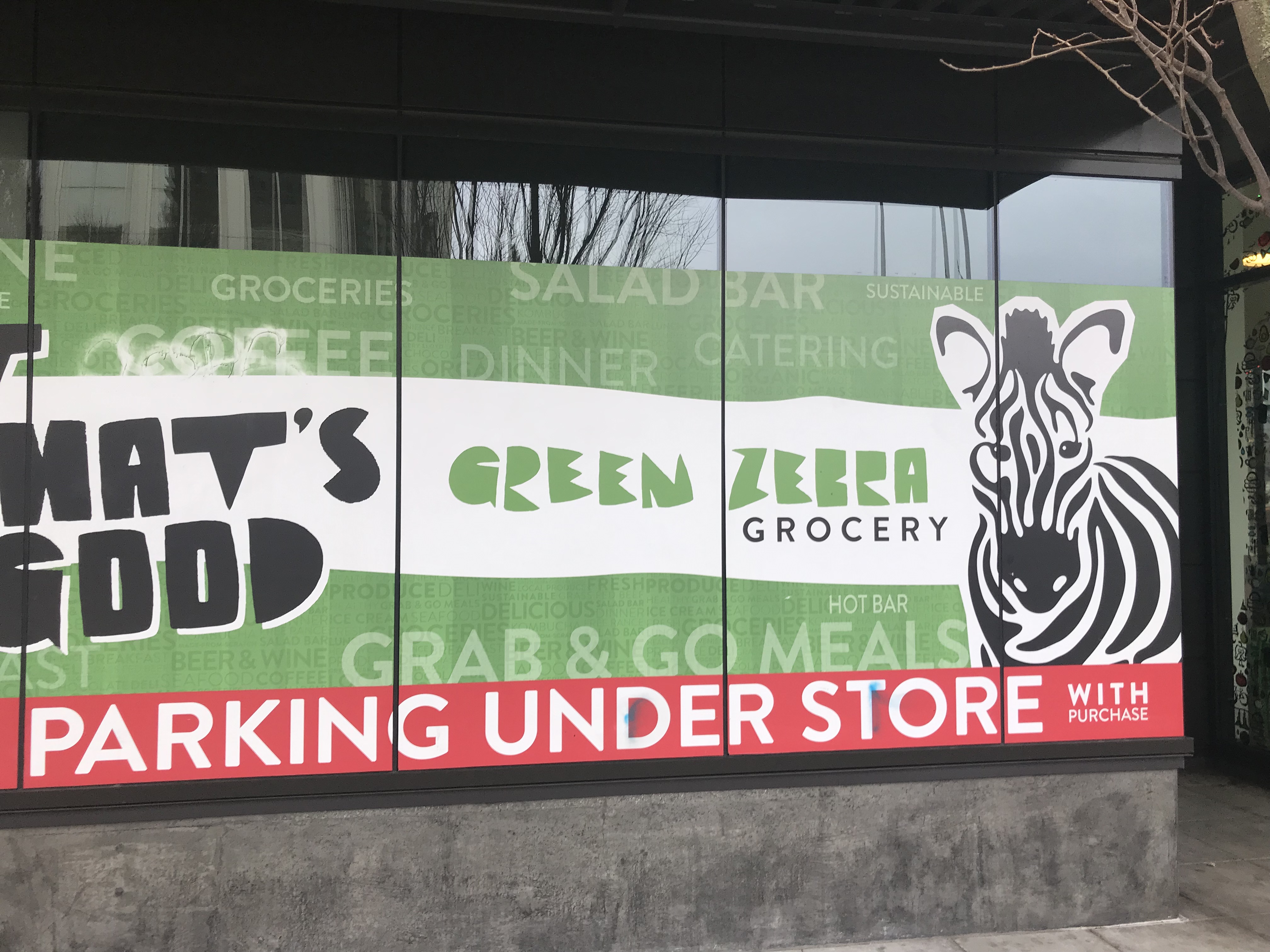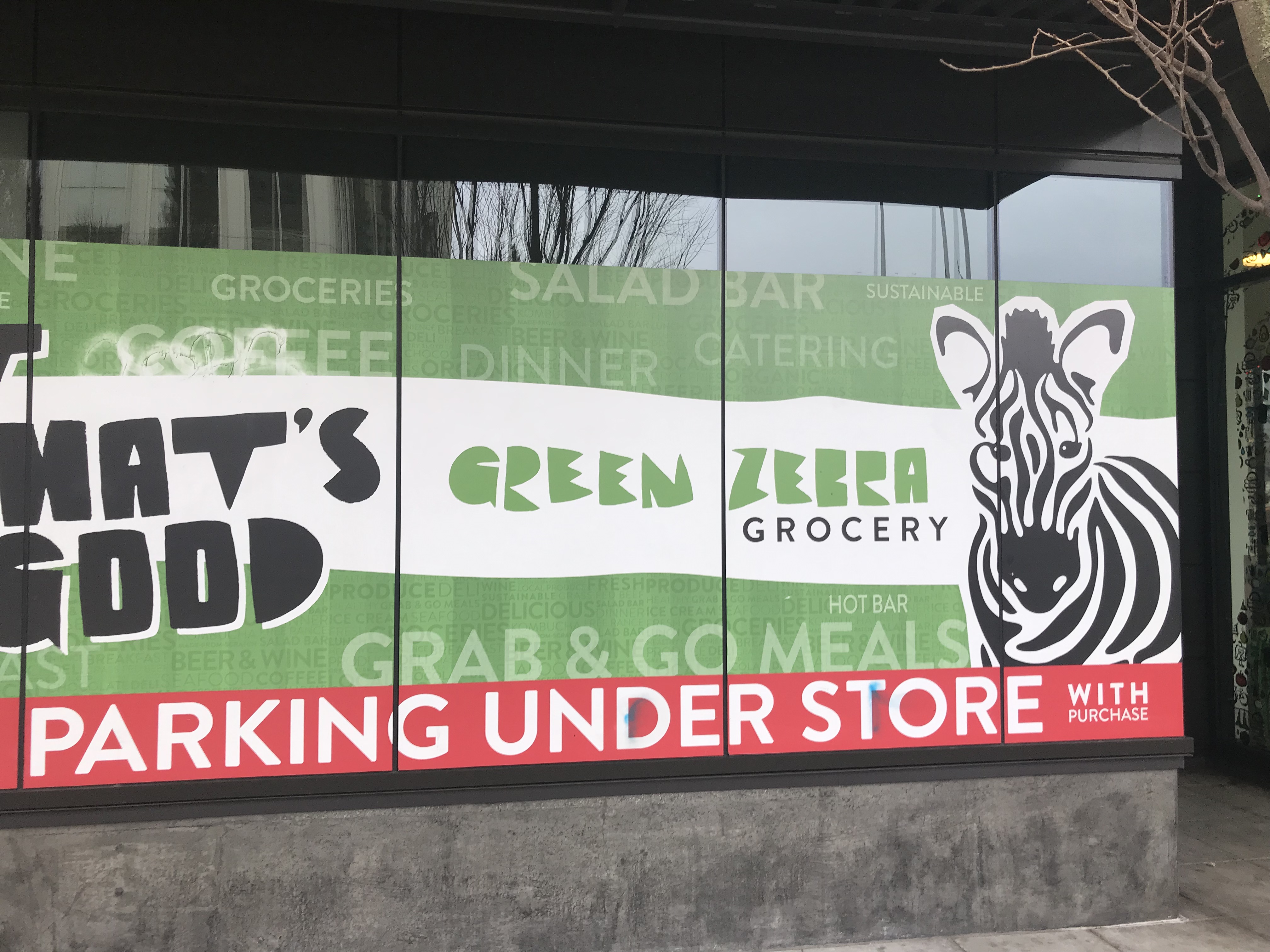 GREEN ZEBRA Grocery!!
www.greenzebragrocery.com
We love great food
Who doesn't? And at Green Zebra that's where it all starts. We carefully source the best local and organic food around, and we stock it right alongside everyday staples. Our in-store kitchens craft hot and delicious grab-and-go meals made from scratch, as well as custom and signature sandwiches. We have a full-service coffee bar, hot breakfasts, and tasty pastries delivered everyday from local bakeries. Our beer and cider is 100% Oregon; our wines are thoughtfully selected and all under $20 a bottle. We pack all that into a small, convenient layout that makes it easy to get in and out fast.
We love community
Our small-footprint lets us serve communities where big stores can't fit. We get to know our neighbors, and we take pride in supporting a thriving community:
• Every month we donate money, food, and service to nonprofits within two miles of our stores.
• We offer discounts to shoppers who bike or walk to the stores and to shoppers who bring their own bags or coffee cup.
• We support our local economy by sourcing from local growers and makers.
• We further support our local economy and our staff by paying higher than minimum wage salaries.
And we're on a mission
Green Zebra Grocery is on a mission to increase access to healthy food. The brainchild of grocery vet Lisa Sedlar, Green Zebra opened it's first store in Portland's Kenton neighborhood in 2013. Since then, the company has worked with nearly 100 local nonprofits to support the community, and has brought a selection of locally sourced, delicious food to more Portlanders. Green Zebra opened its second store in the Lloyd District in April 2016, and our Portland State University Store opened in February 2017. Our next store, on SE Division in Portland is scheduled to open in early 2019.