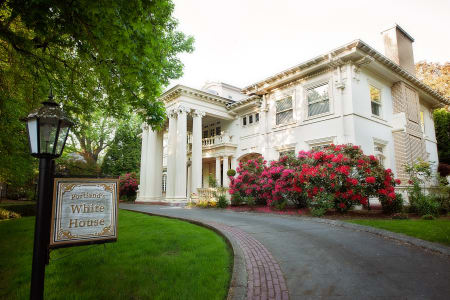 About Us
Welcome to Portland's White House, one of the Rose City's  most luxurious and elegant historic homes that now houses a high-end bed & breakfast.  Dating back to 1911 when it was originally built for wealthy lumber baron Robert Lytle and his family, the neoclassical mansion is situated in the heart of the exclusive Irvington neighborhood with lots of restaurants, shopping and public transportation within walking distance.
Portland's White House was recently purchased and renovated by entrepreneurs Frank Groff and David Krause who count many historic landmarks among the properties they have owned and renovated.  Their work has been featured in countless magazines, newspapers including the Los Angeles Times and on HGTV.  The pair tapped leading Portland interior design firm Christopher-David to assist in the selection of furnishings that not only serve to highlight the home's architectural details but with comfort in mind.
Portland's White House is centrally located whether you are here on vacation or for business.  Lloyd Center, the Convention Center and Moda Center are mere minutes away and the exciting downtown and Pearl districts are just over the bridge.  The Japanese Gardens, Washington Park with its Rose Garden, Chinatown, Portland Zoo, Mt.Hood, Timberline Lodge where "The Shining" was filmed and plenty of shopping on trendy NW 23 Ave, in downtown or on the Eastside's North Mississippi and NE Alberta streets.
Those who appreciate top-notch cuisine, fine wines, microbrews, and craft cocktails are in for a real treat as Portland boasts the greatest number of critically acclaimed restaurants, wineries, microbreweries and bars per capita than any other city in the nation.  We also count scores of Food Network stars and James Beard award winners whose creativity has kept the city front and center on the epicurean scene.
Portland's TriMet public transportation system offers visitors an easy way of enjoying the city.  The MAX light rail train, for instance, takes you directly from the airport to Lloyd Center, about a 15-minute walk to the White House, as well as to various attractions you don't want to miss.  Uber and Lyft drivers are ubiquitous so you can travel anywhere day and night without a wait.
We welcome you to Portland's White House and hope your stay in enjoyable.  Please let us know how we can best serve you.
https://www.portlandswhitehouse.com/